BEGINNERS COURSES Please email us using the 'Contact Us' link at the bottom of this page for further details CLICK HERE to download Beginners Application Form (Word)
Neath Archers are delighted to be hosting the Glamorgan Outdoor Championships again this year
<<<<< click here for more details
As of the 27/3/22 we are back shooting outdoors on Fridays (6pm – 8pm) and Sundays (5pm – 8pm) at Bryncoch Sports Club – Neath Archers Committee
We have a diverse membership from 9 years old to well past retirement.
The club is predominately a target archery club and members shoot compound, recurve, barebow and longbow.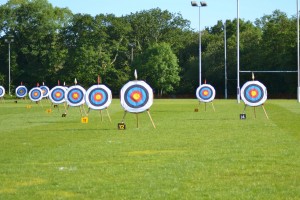 The club regularly shoots each week on Fridays and Sundays (Please see Shooting Times and Venues for more information)
New Members, please click on link below, print, fill form out and give to Jan for records.
Membership Form (Word) / Membership Form (PDF)
Gift vouchers available on request for the beginners course.
---